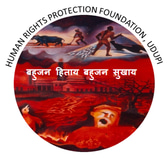 A family that is in charge of cleaning a public toilet on Malpe beach cooks and sleeps in it too. Reason: they have not been provided with the accommodation they were promised.
The couple Madyappa and Renuka, along with their two minor boys and Renuka's sister and mother, cook food and sleep inside the toilet located on the south side of Malpe beach. The toilet was built at a cost of `19 lakh in 2015. For the past four months, the family from Bagalkot has been entrusted the job of cleaning the toilet. They clean the premises every day after the flow of tourists to the beach ceases around 9pm. After cleaning, the family prepares dinner and sleeps in the toilet building itself. Renuka's younger sister and elderly mother too live with them as they have no other roof over their heads.
''We are still waiting for the accommodation and hope to get one,'' the couple said, reluctant to share anything more. They have concerns about the hygiene aspect but don't want to lose their job too. When contacted, Udupi CMC Commissioner D Manjunathaiah told Express that the contractor may have not promised anything in writing to the family. However, Dr Ravindranath Shanbhag, President of Human Rights Protection Foundation (HRPF), Udupi told Express that if a family is made to cook and sleep in a toilet, it is a case of human rights violation.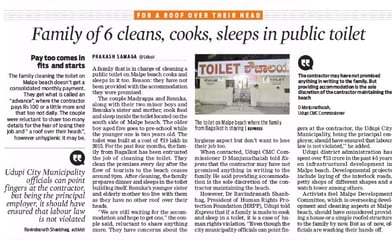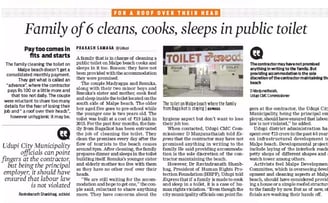 The Plight of Daily Wagers